Were you looking for general information on soulstones or information on the Create Soulstone spell?
Soulstone

Item Level

18

Use: The soul of the target party or raid member is stored, allowing resurrection upon death. Also castable to resurrect a dead target. Targets resurrect with 60% health and 20% mana. (15 Min Cooldown)
1 Charges
Soulstone from Fields of Honor Deck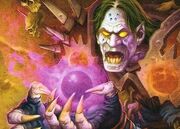 A Soulstone is a conjured item that a warlock can create beginning at level 18 with the [Soulstone] ability that temporarily grants one player the power of self-resurrection or allows the warlock to battle-ress a dead friendly target. It is also a verb term for applying any type of soulstone to a target, as in "to soulstone somebody."
Modified by
Patch changes
External links
Old Item Level 40 version