This article concerns content exclusive to Warlords of Draenor.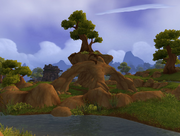 The Stones of Prophecy are a multi-arched rock formation in Nagrand (of Draenor) south of the Throne of the Elements near where Garrosh was defeated by Thrall in Mak'gora or "Trial of Combat". In theory, it remains in Outland as a part of the northern section of Garadar.
External links

Note: This is a generic section stub. You can

help expand it

by clicking

 Edit to the right of the section title.
Subzones of Nagrand of Draenor

Ancestral Grounds

 ·

Anguish Point

 ·

Broken Precipice

 ·

Cerulean Lagoon

(

Azulae Outpost

)

 ·

The Colossal's Fist

 ·

Earthshaker Gorge

(

Earthshaker Cave

)

 ·

Eastwind Gulch

(

Abandoned Mine

)

 ·

Elemental Plateau

(

Challe's Lair

 ·

Magma Cave

)

 ·

Gorian Proving Grounds

(

The Ring of Blood

)

 ·

Gorian Strand

 ·

Grommashar

(

Gates of Grommashar

)

 ·

Gurgthock's Stash

 ·

Hallvalor

(

The Masters' Cavern

)

 ·

Hemet's Happy Hunting Grounds

 ·

Hidden Camp

 ·

Highmaul

(

The Cliffs of Highmaul

 ·

The Coliseum

 ·

Gorian Strand

 ·

The Gorthenon

 ·

Highmaul Harbor

 ·

The Imperator's Favor

 ·

Imperator's Rise

 ·

Market District

 ·

The Path of Victors

 ·

The Underbelly

)

 ·

Lernaen Shore

 ·

Ironfist Harbor

 ·

Lok-rath

(

Terror's Cave

)

 ·

Lonely Falls

 ·

Mar'gok's Overwatch

 ·

Mok'gol Watchpost

 ·

The Ring of Trials

(

Arena Floor

)

 ·

Riverside Post

 ·

Ruins of Na'gwa

 ·

Sabermaw

(

Sabermaw Den

)

 ·

Shadowfall Canyon

(

The Underpale

 ·

Sanctum of the Naaru

)

 ·

Silence Pond

 ·

Skysong Lake

 ·

Throne of Elements

 ·

Smuggler's Den

 ·

Snarlpaw Ledge

(

Snarlpaw Den

)

 ·

The South Sea

 ·

Spirit Woods

(

Gra'ah

 ·

Kag'ah

 ·

Mok'gor

 ·

Oshu'gun

 ·

Spirit Grotto

)

 ·

Spiteleaf Thicket

(

Spiteleaf Burrow

)

 ·

Stonecrag Gorge

(

Vault of the Titan

)

 ·

The Stones of Prophecy

 ·

Telaar

(

Rangari Overlook

 ·

Telaari Station

)

 ·

Trading Post

 ·

Time-Lost Glade

 ·

Warsong Lookout

 ·

Windroc Bay

(

Doomtide Cove

)

 ·

Wor'var

 ·

Worgskin's Camp

 ·

Wrecked Caravan

 ·

Yrel's Watch

 ·

Zangar Sea

 ·

Zangar Shore

Nagrand (Draenor) category