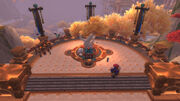 The Summer Terrace can be found at the Alliance-controlled Shrine of Seven Stars
[86, 63]
in the Vale of Eternal Blossoms. The upper balcony connects to the interior of the shrine and has upon it various merchants, as well as the flight master, stable master, and flying and pet battle trainers.
The lower section does not connect to the interior of the shrine, sitting below the balcony portion. Within this sheltered area can be found quest givers related to nearly all the Pandaria-related factions, as well as a few quartermasters.
Inhabitants
Lower section
Quest givers/enders
Merchants
NPCs
Upper section
Merchants
Services
Trainers
NPCs
Patch changes
Community content is available under
CC-BY-SA
unless otherwise noted.