Line 1:
Line 1:
 

{{Bettername}}

 

{{Bettername}}

−

[[Image:Ancientandpowerfulevil.JPG|thumb|The ancient and powerful evil]]

+

[[Image:Ancientandpowerfulevil.JPG|thumb|The ancient and powerful evil]]

 
 
−

The ghostly [[arakkoa]] of the [[Dark Conclave]] at [[Sketh'lon Base Camp]] in [[Shadowmoon Valley]] are trying to summon a creature of '''ancient and powerful evil'''<ref>{{ref game |title=World of Warcraft |expansion=[[World of Warcraft: The Burning Crusade|The Burning Crusade]] |zone=[[Shadowmoon Valley]] |npc=Parshah |quote=The spirits of the dark conclave seek to summon an ancient and powerful evil through a ritual conducted at the lava pits to the south of the Sketh'lon Base Camp|quest={{Questlong|Neutral|69|Thwart the Dark Conclave}}}}</ref> The abomination's purpose was to bring death and destruction as a last ditch effort to stop [[Gul'dan]], who was a threat to the arakkoa as well, from creating the [[Hand of Gul'dan]].<ref>{{ref game |title=World of Warcraft |expansion=[[World of Warcraft: The Burning Crusade|The Burning Crusade]] |zone=[[Shadowmoon Valley]] |npc=Parshah |quote=While the orcish [[Horde]] massed under [[Gul'dan]], my people sought to defend ourselves from the threat by striking against him...|quest={{Questlong|Neutral|69|Asghar's Totem}}}}</ref>

+

The ghostly [[arakkoa]] of the [[Dark Conclave]] at [[Sketh'lon Base Camp]] in [[Shadowmoon Valley]] are trying to summon a creature of '''ancient and powerful evil'''<ref>{{quest|Thwart the Dark Conclave}}</ref> The abomination's purpose was to bring death and destruction as a last ditch effort to stop [[Gul'dan]], who was a threat to the arakkoa as well, from creating the [[Hand of Gul'dan]].<ref>{{quest|Asghar's Totem}}</ref>

 
 
 

== Speculation ==

 

== Speculation ==

Line 18:
Line 18:
 

Have a nice day. :) -->

 

Have a nice day. :) -->

 

{{elinks-NPC|22137}}

 

{{elinks-NPC|22137}}

 
+
 

[[Category:Uncategorized creatures]]

 

[[Category:Uncategorized creatures]]
---
Revision as of 20:15, 3 May 2009
This article's name may be incorrect.

Please note that while the content may be valid, this article's name is based on conjecture.
This article should not be moved unless discussed first - Remember to follow the naming policy.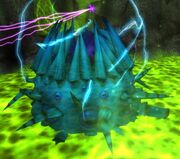 The ghostly arakkoa of the Dark Conclave at Sketh'lon Base Camp in Shadowmoon Valley are trying to summon a creature of "ancient and powerful evil"[1]. The abomination's purpose was to bring death and destruction as a last ditch effort to stop Gul'dan, who was a threat to the arakkoa as well, from creating the Hand of Gul'dan.[2]
Speculation
| | |
| --- | --- |
| | This article or section includes speculation, observations or opinions possibly supported by lore or by Blizzard officials. It should not be taken as representing official lore. |
It resembles the Old God C'thun and may have a connection to it or its kind. If this is indeed an Old God summoned to Draenor, it may have something to do with Anzu being in Outland and the arakkoa worshipping it.
References
External links