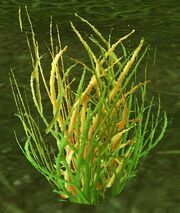 Sungrass is a Herb that can be gathered by Herbalists. 230 Herbalism is required to gather this herb.
Source
Sungrass can be found most frequently in The Hinterlands, Feralas and Azshara. It has also been seen in Eastern Plaguelands, Un'Goro Crater, Felwood and Blasted Lands. Sungrass is most commonly found in open areas.
Sungrass as an Ingredient
Sungrass is used in the following recipes:
Notes
Sungrass is used by Blood Elf Paladins who want to complete their level 60 Epic Riding quest.
External links
Sungrass Farming - OmgNab.com