Swift Violet Ram

Item Level

40

Mount"Mount" is not in the list (Back, Chest, Feet, Finger, Hands, Head, Held in off-hand, Legs, Main Hand, Neck, ...) of allowed values for the "Item slot" property.
Races: Human, Dwarf, Night Elf, Gnome, Draenei
Requires level 40
Requires Riding (150)
Use: Teaches you how to summon this mount. This is a very fast mount.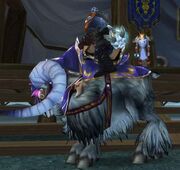 Swift Violet Ram can be purchased for 500

5

from the Ironforge quartermaster of the Argent Tournament. You must either be a dwarf or have completed

 Champion of Ironforge to gain access to this vendor.
Patches and hotfixes

Patch 3.1.2 (2009-05-19): Added

External links