Swift Zulian Tiger

Item Level

40

Mount"Mount" is not in the list (Cloth armor, Leather armor, Mail armor, Plate armor, Axe, Dagger, Fishing pole, Fist weapon, Mace, Miscellaneous, ...) of allowed values for the "Item type" property.
Requires level 40
Requires Riding (150)
Use: Teaches you how to summon High Priest Thekal's tiger. This is a very fast mount.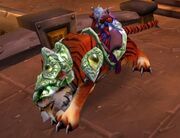 The Swift Zulian Tiger is a very rare epic mount that requires 150 Riding skill to ride. It looks like a nightsaber but with an orange body and black tiger stripes instead.
Source
The mount can only be purchased from the Black Market Auction House. Prior to the

Cataclysm, it dropped off High Priest Thekal in Zul'Gurub in Stranglethorn Vale.
Notes
Patches and hotfixes
References
External links