This article or section is under construction.

Please be patient as the person who started this article or a recent editor is probably still in the process of committing changes to it.
Unlike a stub, contributors have the intention of filling out this article soon.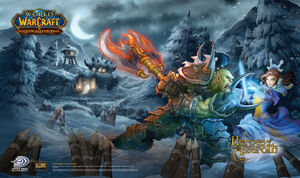 The first World of Warcraft TCG set, named Heroes of Azeroth.
Horns blaze across the Eastern Kingdoms, calling the Alliance to arms. The drums of Durotar hasten the Horde to prepare for the looming conflict ahead. Glorious battles, prized treasures and dominion over all of Azeroth are on the table! The time is now; this is your battle.
Set Details
Card Totals
Total Cards: 380 (361 + 3 + 16)
361 Numbered Cards

114 Commons
115 Uncommons
3 Loot Cards
16 Oversize Heroes
9 Starter Decks, 1 for each class. Precise contents of these starter decks are unknown when bought, all deckboxes have the same layout, without any indication of class of the hero. Each Starter deck comes with 3 Oversized Hero Cards.
Numbering
The numbering is based on a priority of:
Heroes

Alliance
Horde

Abilities

Class Abilities

Druid Abilities
Hunter Abilities and Pets
Mage Abilities
Paladin Abilities
Priest Abilities
Rogue Abilities
Shaman Abilities
Warlock Abilities and Pets
Warrior Abilities

Alliance Abilities
Horde Abilities
Neutral Abilities

Allies

Alliance Allies
Horde Allies
Neutral Allies

Equipment

Armor
Items
Weapons

Quests

Alliance Quests
Horde Quests
Neutral Quests
Each section is then ordered alphabetically.
Card List
Heroes
Alliance
Horde
Abilities
Allies
Equipment
Quests
Loot Cards
Notes
The following cards have a reference to characters of real players:
011 Kayleitha
198 Leeroy Jenkins
203 Lt. Commander Dudefella
291 Green Whelp Armor
The following cards are correspond to in-game NPCs:
188 Ironforge Guards
245 Kaal Soulreaper
254 Orgrimmar Grunts
267 Warchief Thrall
277 Chromie
278 Landro Longshot (Item Redemption)
External links

WoW.TCGBrowser.com
Heroes of Azeroth set
Old

Web.Archive.org
World of Warcraft TCG Products — Heroes of Azeroth archive page
Community content is available under
CC-BY-SA
unless otherwise noted.