The subject of this article has been removed from World of Warcraft.

This includes items and quests that can no longer be obtained.
The in-game information in this article is kept purely for historical purposes and should probably not be under any other categories.

Talisman of Binding Shard

Item Level

80

+13 Strength
+5 Agility
+8 Stamina
+24 Fire Resistance
+24 Nature Resistance
Requires level 60
Equip: When struck in combat inflicts 4 Nature damage to the attacker.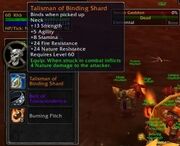 Talisman of Binding Shard only ever dropped once, from Baron Geddon in the Molten Core the 23rd of March 2005 for Noktyn in the guild Nurfed (Blackrock US) on Archimonde Server. This item is no longer accessible, as it was removed from the loot tables the same day Noktyn got it. However, Blizzard allowed him to keep it. [1]
Current
Currently the character Savorx on Blackrock is wearing the talisman of the binding shard. The item shows as error loading tooltip but the item id of 17782 is the correct item i.[2]
Notes
It may have been a first shot of what became in the future

[

Thunderfury, Blessed Blade of the Windseeker

]

, since this drops from Baron Geddon and can be interpreted as a Shard of the Talisman of Binding ("Talisman of Binding"'s Shard [3])
This also is unofficially the very first legendary item that dropped worldwide.
It is stated that this talisman is the only one that can be viewed on the character. [4]
References
External links

NurfedDKP website log