m

Line 103:
Line 103:
 

::::::::As it is, the article talks about the subzone, fortress, zone, and instance hub. So it already more than one article. {{User:Coobra/Sig4}} 23:16, June 22, 2010 (UTC)

 

::::::::As it is, the article talks about the subzone, fortress, zone, and instance hub. So it already more than one article. {{User:Coobra/Sig4}} 23:16, June 22, 2010 (UTC)

 

:::::::::The way I see it, if we're going to split it we should really only have two pages: Grim Batol [lore, subzone, instance hub] and Grim Batol (instance) [5-man dungeon of the same name]. -- [[User:Dark T Zeratul|Dark T Zeratul]] ([[User talk:Dark T Zeratul|talk]]) 23:28, June 22, 2010 (UTC)

 

:::::::::The way I see it, if we're going to split it we should really only have two pages: Grim Batol [lore, subzone, instance hub] and Grim Batol (instance) [5-man dungeon of the same name]. -- [[User:Dark T Zeratul|Dark T Zeratul]] ([[User talk:Dark T Zeratul|talk]]) 23:28, June 22, 2010 (UTC)

 
+
 
+

::::::::::What I'm interested to know is... will it still be a subzone of wetlands, or just be combined into the Twilight Highlands. {{User:Coobra/Sig4}} 23:32, June 22, 2010 (UTC)
---
Revision as of 23:32, 22 June 2010
Anyone Hunt Here?
Has anyone ever quested in this zone in WoW? Where does it lead to?
Screenshot
Can somebody take a screenshot of the entrance? --Xmuskrat 15:57, 13 Jan 2006 (EST)
Editing
Sorry, I'm currently messing up the page while working on a new template for blue posts... --Hobinheim (talk · contr) 14:45, 31 December 2006 (EST)
Instance someday?
On a scale of one to ten, what are the chances this will become an instance one day... eleven? Very nice! Deathwing raid boss FTW :)
If the ending to Night of the Dragon is any indication, Grim Batol might be where we'll fight Deathwing. (Omega2010 (talk) 03:27, 21 November 2008 (UTC))
Quest event?
"The eastern section of Wetlands is reserved for a special, max level quest event. The event is not currently in the beta." .. It's almost 4 years ago that Tigole said this. Is there anything ingame yet or have they scrapped it? Privatekey 21:59, 13 July 2007 (UTC)
The Test of Skulls, Axtroz.--User:Sandwichman2448/Sig 22:41, 13 July 2007 (UTC)
HELP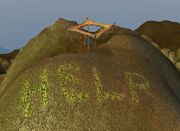 Have you guys seen this? It's written on the very top of Grim Batol peak. I wonder if there's any NPC in that camp... User:Varghedin/Sig 16:02, 18 September 2007 (UTC)
Evil within
The article says that something powerful may be inside Grim Batol. Maybe someone did something to a former Red Dragon Consort and turned him into some crazy creature with the Demon Orb. Or an Old God was partly summoned with the Demon Orb by Nekros Skullcrusher. It could be a reason they don't want to let anyone near. Rolandius

(talk - contr) 04:44, 21 November 2008 (UTC)
An Old God?
(NotD spoilers!)
It seems to me to be somewhat likely that it is an Old God that is the true source of the evil of Grim Batol. I offer the following (some of which can also be attributed to the death of Tharissan's Wife as an alternative):
Everyone who comes near Grim Batol senses its evil.
The Red Dragons who stood guard over it were driven mad - the whispers of the Old Gods are known to do this.
Sinestra hears whispers in her head - at first it is assumed to be her own insanity, then perhaps Deathwing manipulating her. However, the Old Gods are the ones with the most known history in whispers.
The tunnels under Grim Batol are apparently even older than the Dark Iron Dwarves - who, then dug them, and where do they lead?
The very wildlife began to flee from the evil of Grim Batol - could such instinctive fear be caused even by Sinestra's "experiments"? Or perhaps, the stirrings of an Old God?
Vereesa, at one point, hears faint voices in the passageway - this is never explained fully nor explored further, however it is assumed they were Skardyn or Dragonkin despite the fact that the passages seemed to be deserted. If not Skardyin or Dragonkin, then who?
I don't know, it just seems to me that the evidence is piling up. ~My rage bar is blue and I start the fight pissed - Peregrine 05:38, 5 March 2009 (UTC)
Location
Sorry for the fast change, I read the reason after clicking Edit.
Even if Cataclysm is not out yet, Blizz reconted the fact that Grim Batol is in the Wetlands to place it in the Twilight Highlands (probably just moving the border a bit east to adapt the fact that Wetlands will most likely be flooded). So shouldn't we let it as Blizzard says it will be?

Loremaster A'noob, Arch Druid of the Noobhoof Clan (talk/contribz) 08:11, February 26, 2010 (UTC)
Naming
I suggest we move this article to Grim Batol (lore) or something similar and move Grim Batol (instance) here. Or... since this article is relatively small, a merger. I really want to get away from using parenthesis on new content. User:Coobra/Sig4 06:41, June 22, 2010 (UTC)
Community content is available under
CC-BY-SA
unless otherwise noted.