The subject of this article was either removed from World of Warcraft or is no longer available due to the devastating Cataclysm patch 4.0.3.

The in-game information in this article is kept purely for historical purposes and may not need to remain under any other categories.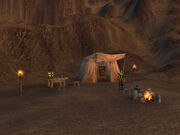 Tanner Camp is a small camp where Sarah Tanner,
[63, 75]
the master elemental leatherworker for the Alliance, lives. Behind her tent is a long, sprawling passageway that leads to the Thunder Lizard Margol the Rager.
In Cataclysm

This section concerns content exclusive to Cataclysm.
The Tanner Camp has apparently been abandoned after the Cataclysm. While the camp remains, the actual subzone is removed.