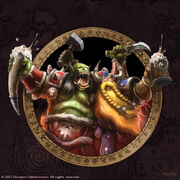 A tavern is usually a building with a tavernkeeper NPC.
Tavern sub-zones often have their own atmospheric music. Blizzard published an album of these songs called "Taverns of Azeroth".
List of taverns
Alliance
Horde
Neutral
Warcraft III

This section concerns content exclusive to Warcraft III.
In Warcraft III, a tavern was a place from which neutral heroes were hired and could be revived instantly for a price.
Also, there is another building called Tavern, but a doodad, looking very different, and has a name "Bonnie Hill". This is common in city maps.
External links