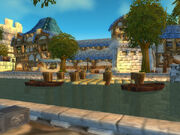 The Canals of Stormwind City are a series of waterways that wind their way through the city, separating each of its various districts. While these canals are mostly used for thoroughfare, they do house a few shops overlooking the marble pathways and docks, and it is a popular area for fishermen to spend time hauling small catches. The Canals also house the infamous Stockade.
The Canals are accessible from every single district in Stormwind, and is indeed quite hard to not cross at one point while staying in Stormwind.
Adventurers should be wary of falling in the canals, as there have been reports of a giant albino crocolisk roaming them.
Points of interest
Inhabitants
Excludes the above areas.
  

Bario Matalli

 <Sous Chef>
  

Robby Flay

 <Head Chef>
  

Mazen Mac'Nadir

 <Academy of Arcane Arts and Sciences>
  

Adair Gilroy

 <Librarian>
  

Arnold Leland

 <Fishing Trainer>
  

Catherine Leland

 <Fishing Supplies>
Patch changes
Patch 4.0.3a

(2010-11-23): Redesign with new thoroughfares, new NPCs, and new shops

External links