The Decapitator

Item Level

125

One Hand"One Hand" is not in the list (Back, Chest, Feet, Finger, Hands, Head, Held in off-hand, Legs, Main Hand, Neck, ...) of allowed values for the "Item slot" property.

Speed 2.60
167 - 312 Damage
(92.1 damage per second)
Durability 105 / 105
Requires level 70
Equip: Improves critical strike rating by 27.
Use: Hurls your axe in an attempt to decapitate your target causing 513 to 567 damage.
Cooldown: 3 minutes
The Decapitator drops from Prince Malchezaar in Karazhan.
Notes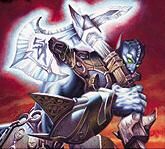 The "decapitate" effect has a 40 yard range. As of patch 2.3, The Decapitator can be equipped in the off-hand.
External links