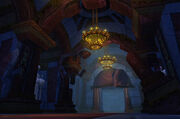 The Master's Key was the key (and attunement) to enter Medivh's tower of Karazhan in Deadwind Pass. It is a reward from the quest

 [70] Return to Khadgar. In order for your raid to enter Karazhan, only one person needs to possess the key.
Quest chain at a glance
Main article: Karazhan Quest Progression
The key can be obtained by completing the following questline, which begins with Archmage Alturus just outside Karazhan:
The whole questline rewards 2100 reputation with the Violet Eye.
Access requirements
Some of the quests in this chain have access requirements that may sidetrack a player. These include access into:
In-depth explanation
Congratulations, you can now enter Karazhan!
Patch changes
Patch 2.4.0

(25-Mar-2008): No longer required to enter Karazhan.
            The key will still be needed (in the absence of an available rogue) to open the main and side entrance gates.


Patch 2.0.3

(09-Jan-2007): Added.

External links