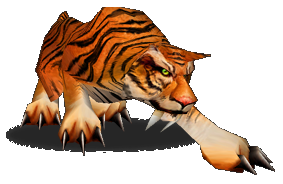 A variety of big cat, tigers are found on the Echo Isles in Durotar they're found all over Pandaria and all over Stranglethorn Vale. Most tigers are orange with black stripes, but there are a few white tigers; the most famous being King Bangalash.
They are territorial and generally solitary but social animals.
These great cats stand more than 3 feet tall at the shoulder and are about 9 feet long. They typically weigh from 400 to 600 pounds.[1]
Spectral tigers are not actually spirits or ghosts. They were created when Draenor exploded, unleashing energies that warped the wild cat's biology.[1]
The last known Zulian tigers were kept by High Priest Thekral, deep within Zul'Gurub. They are said to have been hunted into extinction.[2]
A rare epic mount is the Swift Zulian Tiger, a rare drop from a Zul'Gurub boss.
Subspecies
Type
Location/Description

Dire tiger

Shadows & Light[2]
Spectral Tiger

Bloodthirsty Prowler

Greenstone Village

Dread Matriarch

,

Dread Stalker

Dread Wastes
Durotar Tiger
Echo Isles, Durotar (pre-)
Elder Stranglethorn Tiger
Stranglethorn Tiger
Stranglethorn Tigress
Young Stranglethorn Tiger
Stranglethorn Vale
Bloodscalp Tiger
Pets of the 

Bloodscalp Tribe

.
Kurzen War Tiger
Pets of Kurzen's Expedition

Forest Huntress




Forest Prowler


Wary Forest Prowler


Forest Cub

Jade Forest

Enthralled Forest Prowler

Pets of the Forest Hozen.
Sha-Infested Prowler
Start appearing after the first appearances by the sha.

Golden Tiger

Fox Grove, Jade Forest (during quest phasing)
Gorge Stalker
Dustback Gorge, Valley of the Four Winds.

Krasari Elder




Krasari Huntress




Krasari Mauler




Krasari Prowler


Krasari Stalker


Krasari Cub

Krasarang Wilds

Lurking Tiger

Jade Forest

Pei-Wu Tiger




Pei-Wu Tiger Cub

Pei-Wu Forest, The Wandering Isle.

Sha-Haunted Tigress




Sha-Haunted Tiger Cub

Near the Temple of the Red Crane in Krasarang Wilds

Summit Prowler




Summit Prowler Cub

Kun-Lai Summit

Tamed Tol'vir Prowler

Lost City of the Tol'vir

Thicket Stalker

Jade Forest

Tigers

Neferset City (before the assault of the city), Uldum

Waxwood Hunters




Waxwood Matriarch

Waxwood Forest

 in Jade Forest

Wild Huntress




Wild Prowler




Wild Stalker

Bamboo Wilds, Jade Forest

Windward Tiger




Windward Saber




Windward Alpha




Young Windward Hunter

Windward Isle, Jade Forest

Young Stalker

Summoned during the fight with

Rakira

, in Jade Forest

Zouchin Tiger

Zouchin Province, Kun-Lai Summit
Zulian Guardian
Zulian Tiger
Zulian Cub
Zul'Gurub (pre-
Notable tigers
Chasheen

 <Queen of the Deepwild>

Duskcoat

Kash

Kher Shan

 <The Hozen Bane>

Ki Ki

Kung Din

Kyo

 <

Che Wildwalker

's Pet>

Mazhareen

Mimbubu <

Kuzari

's Pet>

Rakira

Ro'shen

Ruukti

Savage

Summer

 <Lorewalker Cho's Companion>

Nodding Tiger

Xuen <The White Tiger>
Reference list