Kalgan
Role
Lead Game Designer (Game Systems)
View posts
"Personally I intend the average guild be |---------------------------------| organized (but no more or less than that)"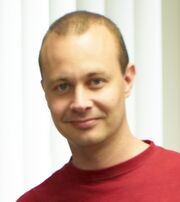 Tom Chilton (aliases Kalgan and Evocare[1]) is a Lead Game Designer currently working on Blizzard Entertainment's MMORPG World of Warcraft, the world's largest MMORPG in terms of monthly subscribers.[2] With Rob Pardo and Jeffrey Kaplan, he was one of three lead designers on World of Warcraft: The Burning Crusade,[3] the fastest selling PC game of all time.[2] He is currently working on the second expansion: World of Warcraft: Wrath of the Lich King.
He previously worked as a lead designer for Origin Systems on MMORPG Ultima Online.[4] He is credited with three Ultima Online expansions: Ultima Online: Third Dawn, Ultima Online: Lord Blackthorn's Revenge and Ultima Online: Age of Shadows. He left Origin Systems in 2004 after Electronic Arts disbanded the studio. He joined Blizzard Entertainment to work on World of Warcraft and was on a team of six game designers.[5]
Tom Chilton has made appearances at Blizzard Entertainment's BlizzCon 2005 and BlizzCon 2007 events. At BlizzCon 2005, he was on the developer panels for discussions about character classes, dungeon creation, raids, and battlegrounds. At BlizzCon 2007, he was on the developer panels for discussions about classes, PvP, user interface and mods, and professions and items.
References
External links
Wikipedia