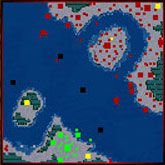 Tyr's Bay is a bay on the eastern side of the continent of Lordaeron, east of Tyr's Hand. The horde assisted the Ogre-Magi in the creation and defense of a Fortress on an island at the mouth of Tyr's Bay, cutting off the Human supply lines into Quel'thalas, and razing Tyr's Hand.

This section concerns content exclusive to World of Warcraft.
In World of Warcraft there is no feature on the coast near Tyr's Hand that would clearly resemble a bay, but New Avalon's port, King's Harbor, may be the facility seen in Warcraft II. New Avalon and King's Harbor are not included in World of Warcraft: Classic.