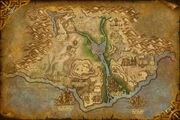 Uldum is the level 83-84 zone of Cataclysm. The full breadcrumb chain to Uldum starts during the Deepholm storyline as soon as players hit level 83. Two quests open up in the player's respective faction's room in the Temple of Earth and involves a few quests at the Twilight Terrace before heading to Stormwind or Orgrimmar to check in, then down to Thistleshrub Valley in Tanaris to meet up with Adarrah's Caravan. Adarrah's quest, Easy Money, is the the only required breadcrumb to the zone, as the quests before it are all optional, but they do fill in some of the lore.
After completing Easy Money, the storyline proper begins in the Lost City of the Tol'vir with Traitors!
After Uldum will be the capstone level-up zone of Cataclysm, Twilight Highlands.
To Uldum!
This optional breadcrumb chain starts out in Deepholm as soon as players hit level 83.
To Easy Money!
Escape and retribution
To The <High Priest/Vizier/High Commander>'s Vote chains.
Stumping for votes
After Send Word to Phaoris:
Down with Neferset City
After completing the three advisor chains:
Harrison's story
From Take it to Em!
Obelisk of the Stars
Obelisk of the Sun
Curse of the Tombs
After The Defense of Nahom:
Schnottz's Landing
At the Obelisk of the Sun, the book [Efficient Excavations] drops from an officer, which starts the breadcrumb to Schnottz's Landing.
Temple of Uldum
Harrison Jones ends the quests at Schnottz's Landing, and continues with quests that ultimately lead to the Temple of Uldum.
Coffer of Promise/Halls of Origination
Once the Coffer of Promise is uncovered, its powers are revealed, and Brann then leads players into the Halls of Origination.