——————————— ANTICRASH ———————————

• Graphic Designer • Web Developer • Internet Publisher • Design Student • Creative Thinker •
I've been playing World of Warcraft ever since the Closed Beta, six months before the retail release of the game. I registered as Dalan and played through the subsequent Stress Test and Open Beta, then promptly bought the game the day it launched. I felt attached to the character so I remade him through each session and began play with him in the official game as well. So in essence, Dalan is actually older than the retail version of the game. Dalan's guild, The Dark Hand Covenant, was created a few days after launch, as soon as we had accumulated enough gold to purchase a charter. So, The Dark Hand Covenant is one of the first guilds on the Ner'zhul server and has a lot of history.
Characters
This user plays as a member of the

Horde

.
| | |
| --- | --- |
| | This user plays as a member of the Alliance. |
| | |
| --- | --- |
| | This user has reached level 80. |
This user plays on an

RP

server and does, in fact, roleplay there.
This user has a strong interest in articles on

lore

.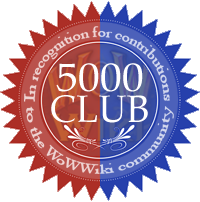 This user is a tireless member of
the
5000 club
!
Community content is available under
CC-BY-SA
unless otherwise noted.