Hello! I am the
Wiki Manager
of this wiki. I am here on behalf of Fandom to assist this community, help it grow and thrive, and act as a liaison between you, and full-time Fandom staff. If you ever have an issue or question related to this wiki (editing, templates, wiki design, or any other matters related to Fandom), please contact me on my
message wall
/
talk page
, and I will assist in any way I can.
Warcraft History
I am a veteran Warcraft player who began visiting Azeroth in Warcraft: Orcs and Humans and started playing World of Warcraft in May 2005. I spent time on several different servers, playing both Horde and Alliance factions. I played nearly every class to max level, raiding with several of them. I led a handful of different guilds over the years and was an officer in a few others. For a while, I also role-played in game.
I spent extensive time playing on the following US realms:

Also, very rarely the horde-side of Argent Dawn (RP)
WoW Topics I am Interested In:
My Fandom History
I have been present on Wikia/FANDOM in some form or another since 2006. I joined Fandom's Community Council in 2017, and I now act as a Wiki Manager on behalf of Fandom for several gaming wikis.
I believe in keeping articles as clear, organized, up-to-date and thorough as possible. I have a fair amount of experience with wiki code, and have spent much time customizing wiki features using the theme-designer, CSS and JS.

This user is
an expert
concerning
Guild achievements
at WoWWiki!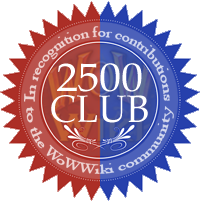 This user is a venerable member of
the
2500 club
!
The Golden Kobold
Someone has awarded this user with the Golden

Kobold

, for his/her work here at WoWWiki!