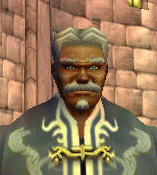 Tharbur is a loyal servant of the Holy Light. He selflessly helps the innocent and defends the weak, regardless of race or affiliation. His doing is guided by honor and justice, and thus Tharbur detests all that is evil and sinister.
Education
In his early years Tharbur was educated in Northshire, later he continued his studies in the City of Stormwind and was instructed personally by Lord Grayson Shadowbreaker in the end. He once pilgrimaged to the grave of Lord Uther the Lightbringer and paid his respects to the one paladin.
Although Tharbur is no official member of the Order of the Silver Hand, he faithfully follows their moral code, and even helped Highlord Tirion Fordring to re-found the Order.
Professions
During his studies Tharbur also learned some crafting skills, and perfected them on his journeys. He now holds master degree in Mining and Engineering. Tharbur is proud to be able to build some rarely-found objects such as
Community content is available under
CC-BY-SA
unless otherwise noted.