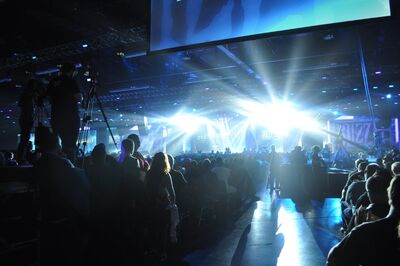 As we sit in the dim twilight of BlizzCon 2015, now several weeks past, we pause and take a moment to reflect on our experience in a series of pictures. Please take a moment and look through them at your heart's content - we hope to return next year!
Art
Cosplay
A fan of cosplay? Come visit our Cosplay wikia!

Group shot
Individuals
Competition
Inside
Movie Props and Merchandise
Outside
Stages
Statues
We hope you enjoyed the trip along memory lane

. We leave you with the following - a pic of Warcraft band Songhammer and ETC talking, probably trading music tips.