Comment here!
BlizzCon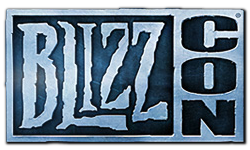 The schedule has been posted for BlizzCon 2013! Here are some of the highlights:
World of Warcraft: What's Next
World of Warcraft Arena Global Invitational
World of Warcraft: The Adventure Continues
Art of World of Warcraft
World of Warcraft Raids, Gameplay, Questing, and More
Warcraft Movie Presentation: presented by Duncan Jones, the director
Blizzard announced that their title Blizzard All-Stars has been renamed to Heroes of the Storm. This free-to-play MOBA will also be covered at BlizzCon!
Heroes of the Storm Overview
Heroes of the Storm Deep Dive
Heroes of the Storm Live Matches
Connected realms
As promised, more realms have been connected:

New Connected Realms Coming *Updated | 2013-10-17 00:00 |
Bashiok
As a part of our ongoing Connected Realms implementation, we will be connecting additional pairs of realms as listed below. We don't have a specific date yet on when these connections will occur, but we'll provide another update once we do. Please be aware that as a part of the connection process realm times may change to match each other.
Next Realm Connection Pairs:

Balnazzar and Warsong
Gurubashi and Aegwynn
Dalvengyr and Dark Iron
Garithos and Chromaggus
Onyxia and Burning Blade
Maiev and Bloodscalp/Boulderfist

We're currently evaluating further realm connections and will provide updates as they're available.
Other news
Victory against (some) botters! Blizzard won a major victory against a botting company to the tune of $7 million and the immediate dismantling of the company's botting program. It may slow at times - but keep in mind this case took two years to pursue.


For more WoWWiki and Warcraft news be sure to follow us on

and join our

group!