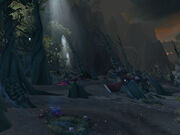 Veil Rhaze is a colony of Skettis, the capital of the arakkoa. It is located to the west of the Refugee Caravan in the Bone Wastes, along the border with Terokkar Forest.
Veil Rhaze was destroyed when Auchindoun exploded, but Terokk - the malevolent arakkoa god - raised the spirits of Rhaze to do his bidding.
Torgos's Bane is located at 26,56.