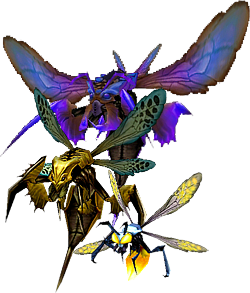 Wasps are an arthropod type found on Azeroth and other places. They are stinging insects. Wasp species of various sizes can be summoned by certain arcane casters to attack their enemies.[1] (WoWRPG 343) A wide variety of Silithid Wasps are found on Azeroth all over Kalimdor. A giant species of wasp with a glowing abdomen are found on Outland in Blade's Edge Mountains and Zangarmarsh.
Hunter pet
Specialization (upon taming)

Ferocity
The Wasp eats




The Wasp comes with


All pets come with


The pet family wasp refers to the fireflies added in the Burning Crusade expansion and later, to the wasps of Sholazar Basin added in the Wrath of the Lich King expansion.
Though hunters can respec their pet wasps into Cunning or Tenacity, they are inherently Ferocity. In addition to the abilities that come standard with all pets ([Growl] and [Avoidance]) and those given to their natural or retrained specialization, all wasps are given the following:
Subspecies
The subspecies below can be tamed by hunters.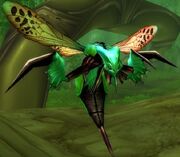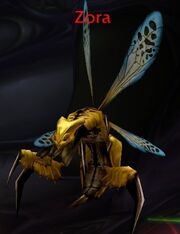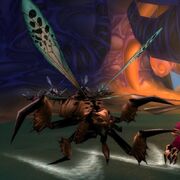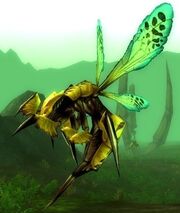 Black
Blue
Green
Orange
Purple
Red
Tan
White
Yellow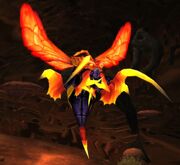 [39]  

Stinglasher

(blue/red)
   [Boss]  

Princess Huhuran

(green/red)
   [Boss]  

Ayamiss the Hunter

(orange)
   [78]  

Sapphire Hive Queen

(orange)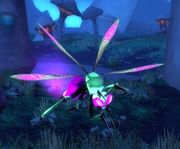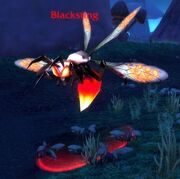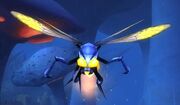 Green
Purple
Red
Yellow
Named
Vanity/Battle pet
Patch changes
Patch 3.1.0

(14-Apr-2009): Bonuses equalized. Damage had a +10% bonus and now has +5% bonus. Armor had no bonus and now has a +5% bonus.

/

Patch 3.0.2

(14-Oct-2008): Become tamable.

External links

Petopia

WarcraftPets

 See this subject on the Hearthstone wiki: Giant Wasp