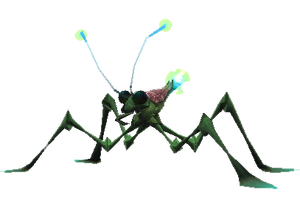 Water striders are aquatic insects that range from small to gigantic (large enough for a humanoid to ride upon) with a the ability to walk on water. The smaller variety are only found in Pandaria, while the larger variety (fen striders) are found primarily in Outland.
Hunter pet
Specialization (upon taming)

Cunning
The Water strider eats


The Water strider comes with


All pets come with


Note: Water striders are an exotic beast and can only be tamed by beast master hunters with

[Exotic Beasts]

.
Though hunters can respec their pet water striders into Ferocity or Tenacity, they are inherently Cunning. In addition to the abilities that come standard with all pets ([Growl] and [Avoidance]) and those given to their natural or retrained specialization, all water striders are given the following:
Subspecies
The subspecies below can be tamed by hunters.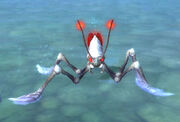 Blue
Green
Orange
White
Yellow
Blue
Green
Orange
Red
Yellow
Black
Blue
Green
White
Named
Vanity/Battle pet
See also
Patch changes
External links

Petopia

Warcraft Pets