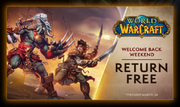 A welcome back weekend is an event where all inactive World of Warcraft accounts are upgraded for a short period (usually around a weekend), granting returning players full access to the game* and all their characters—including the latest trial experience, for those who don't own the latest expansion.
* Offer available through stated end date (most recently March 24, 2019).[1] Player is responsible for any online connection fees. Game access will be granted at the last expansion purchased or World of Warcraft®: Legion®[1] (previously Warlords of Draenor),[2] whichever is greater. The Battle for Azeroth trial experience ends after three hours of game play in Battle for Azeroth, or after the quest "We Need Each Other" (for Horde) or "A Nation Divided" (for Alliance), whichever comes first.[1] Players can repeat the trial experience with up to 12 characters per qualifying account during the welcome back weekend.[1]
Welcome back weekends
Media
Images
References
See also

Note: This is a generic section stub. You can

help expand it

by clicking

 Edit to the right of the section title.
External links

Official WoW Site (US)
Welcome Back Weekend

Official WoW Site (EU)
Welcome Back Weekend
News

Official WoW Site (US)
Join the Welcome Back Weekend March 21–24
by Blizzard Entertainment March 18th, 2019

Official WoW Site (US)
Get 25% Off Select Game Services During Welcome Back Weekend
by Blizzard Entertainment June 21st, 2018
Community content is available under
CC-BY-SA
unless otherwise noted.