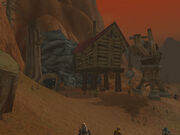 Windshear Mine is located within Windshear Crag and is filled with aggressive kobold miners who are working for the Venture Company. It is a good source of [Tin Ore].
Quests
Piznik can be found deep in the mine, working undercover for Ziz Fizziks. He starts the short quest line

 [22] Gerenzo's Orders.
In Cataclysm

This section concerns content exclusive to Cataclysm.
The mine appears to be have been taken over by the Horde.[1]
References