| | |
| --- | --- |
| | This article or section contains information taken from the Warcraft strategy games and contains information relating to level editing or game mechanics. |
World Editor is a powerful tool that allows to manipulate almost every aspect of Warcraft III. It can be used to edit maps, to create fan maps or even create fan campaigns. The Technical Support team of Blizzard Entertainment does not support the editor and can't answer the doubts.
Editors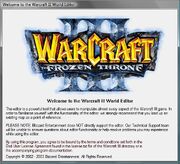 Terrain Editor (F3)
The Terrain Editor is the editor of the map, in this option the user can modify the terrain and can place the units, doodads, cameras, regions and move or modify them.
Trigger Editor (F4)
This is the most advanced and powerful portion of the World Editor. The Trigger Editor allows you to take complete control of every aspect of the game. It is a simplified programming language designed to be accessible to novices, but powerful enough to satiate the desires of more advanced users.
Sound Editor (F6)
The Sound Editor allows you to import and export sound (.wav) files and music (.mp3) files and then play these sounds through triggers in the Trigger Editor.
Object Editor (F7)
The Object Editor let the user modify all the statistics, art and names of all the units. Also allows to create own custom units.
Campaign Editor (F5)
The Campaign Editor, as the name says, allows the users to create his/her own campaign.
AI Editor (F8)
The Artificial Intelligence Editor allows the user to make the computer players do what he/she wishes, to activate the AI a trigger must be made.
Object Manager (F8)
The Object Manager manages and cross-references all doodads, units, items, regions, and triggers currently in the user's map.
Import Manager (F8)
The Import Manager let the user import many kind of files to the map. For images the format .tga must be used, for sounds and music the formats .wav and .mp3 must be used, can also import fan made models and skins.
Fanbase
The World Editor has built up a huge community of map making enthusiasts who share their work online with others through various sites dedicated to map making and modding in WarCraft III. Various parts of these modding sites include models, campaigns, skins, spells and, of course, maps.
Notable sites include:
The Hive Workshop[1]
TheHelper.Net[2]
Notes
For a list of the units from the World Editor see: Warcraft III units.
A unit used for World Editor-only purpose is the Start Location, it just determine the place that the player will have the camera when the game start; but the camera can be changed with a trigger.
The first time the World Editor is opened a peon says, "Ready to work!".

The following times the World Editor is opened, "royalty" music is played.