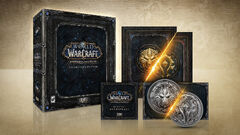 The World of Warcraft: Battle for Azeroth Collector's Edition is a special box similar to previous collector's edition boxes of World of Warcraft. It will be available at select retail locations (GameStop, Best Buy, Target, Wal-Mart, and Amazon.com in the US; see the official site for your regional participating retailers).
The following will be included:
Double-sided story book: Elegy and A Good War - Every great war story has two sides. This limited edition hardback version collects two new World of Warcraft novellas depicting the Burning of Teldrassil from the point of view of the Alliance (Elegy, by Christie Golden) and the Horde (A Good War, by Robert Brooks). Each story includes original artwork exclusive to this edition. (Note: Both stories will become available online later this year, but buying the Collector's Edition will remain the only way to own the exclusive hardback version containing original artwork.)
Horde and Alliance double-sided

Mark of Allegiance

: Declare your allegiance with this hefty, double-sided Mark of Allegiance. Place it somewhere prominent, with your chosen faction proudly facing out into the world for all to see. Includes a stand in card deck-sized box.
Collector's Edition digital soundtrack: A digital key to download the stirring orchestral pieces from the Battle for Azeroth soundtrack, the perfect mood music for laying siege to your enemies.
Epic In-Game Content
Pricing
References
See also
News

Official WoW Site (US)
Collector's Edition: A Tale of Two Novellas
by Blizzard Entertainment April 6th, 2018

Official WoW Site (US)
Battle for Azeroth™: Collector's Edition
by Blizzard Entertainment April 5th, 2018
Warcraft games
 

RTS

MMO

Special Editions

Misc.

Online card

MOBA

Demos

Remakes

Cancelled

Non-computer

Games with strikethrough were cancelled or are no longer being produced.