'World of Warcraft: Mists of Pandaria' Cinematic Trailer
Play Sound
Were you looking for the World of Warcraft package that includes this expansion?
| | | |
| --- | --- | --- |
| " | To ask why we fight is to ask why leaves fall; it is in their nature. | " |

World of Warcraft: Mists of Pandaria is a name trademarked[1] by Blizzard Entertainment.[2] It is the fourth expansion of World of Warcraft, after

Cataclysm. Details were announced at BlizzCon 2011.[3] Blizzplanet reported the announcement was to be made at BlizzCon 2011 from sources during gamescom 2011.[4] MMO Champion speculated that "Mists of Pandaria" could be the name for the next
expansion[2] and turned out to be correct. Kotaku pointed out that a similar early registration of "Cataclysm" turned out to be the new expansion name.[5]
A release date for the expansion was announced to be September 25th, 2012 with digital pre-orders starting on the announcement date of July 25th, 2012.[6] Details about the Collector's Edition and the Digital Deluxe Edition were included.
MMO Champion's speculation that it might be the next expansion was met by skepticism by several media outlets.[7][8][9] 1UP actually tried to contact Blizzard about this and the reply was "not ready to reveal any details at this time".[10] Strangely, a gaming and technology blogger said that there was a leak about the next expansion being focused on the island of Pandaria back in March 2011.[11]
Finally, Medievaldragon of Blizzplanet wrote a very nice, comprehensive article about the speculation surrounding the rumors and Pandaria in general.[12]
Some analysts doubted it would be released in 2012.[13] Also, in Activision-Blizzard's 2011 Q4 financials call, only Diablo III was confidently predicted to be released in 2012[14][15] with a possible second release being either Mists of Pandaria or StarCraft II: Heart of the Swarm.[16][17]
In early April 2012, WoW Insider turned out to have a very accurate prediction of the end of the beta as September 27th being only 2 days from the actual announced release date.[18] Technically, they were more than 2 weeks off, however, because they placed the release of the patch at August 15th.
Debunked?
Blizzplanet interpreted a brief comment by Tom Chilton as potentially debunking Mists of Pandaria as the new expansion, something upcoming in World of Warcraft, or something like that (it was all pretty vague).[19][20] The interpretation turned out not to be a debunking and apparently just vague.
BlizzCon 2011 announcement
At BlizzCon 2011, Mists of Pandaria was announced as the fourth expansion to the World of Warcraft series.[3] The expansion is set to include a new race for both factions, the Pandaren, as well as a new playable class, the Monk. Other features include a new talent tree system, challenge mode dungeons and a revival of classic Horde versus Alliance warfare.
Launch dates and times
Editions
Please click links of specific editions for details...
Box edition ($39.99, €34.99/£29.99) - Game CD and manual.

Collector's Edition ($79.99, €69.99/£59.99) - Game CD/DVD, manual, art book,

[

Imperial Quilen

]

,

[

Lucky Quilen Cub

]

, D3 banner sigil/accent, SC2 portraits, behind-the-scenes DVD, soundtrack CD, and mouse pad.

Digital download edition ($39.99, €34.99/£29.99; see pre-order) - Digital download
Beta
Annual pass customers were promised access to the

Mists of Pandaria closed beta and access to a beta download page was briefly available around March 7th, 2012,[21] but it was apparently unintentional and access was removed shortly after.
A closed beta test period was announced on March 20, 2012 with invites going to Annual Pass holders, press, fansites, friends and family, and opt-in beta testers.[22] MMO Champion may have gotten access soon after the opt-in announcement[23] and an official announcement of the start of the Beta was released late March 21st, 2012.[24] The first version of the beta client was Patch 5.0.1.
Cinematics and trailers
The opening cinematic for Mists of Pandaria debuted[25] on August 16th at gamescom 2012 in Cologne, Germany.[26]
TV spots
TV spot #1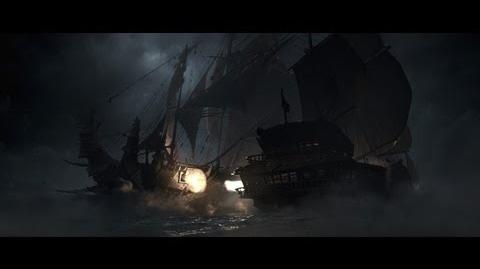 TV spot #2
Instance trailer
Dungeons, Raids, and Battlegrounds
Zones trailer
Scenarios trailer
Monk trailer
Other cinematics
Courtesy of MMO Champion[27]
Horde Pandaria Cinematic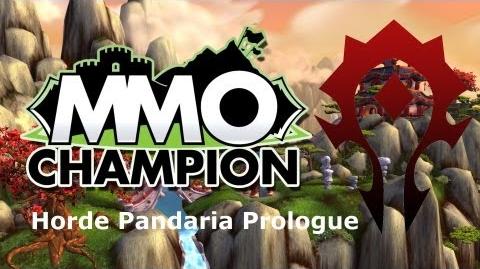 Alliance Pandaria Cinematic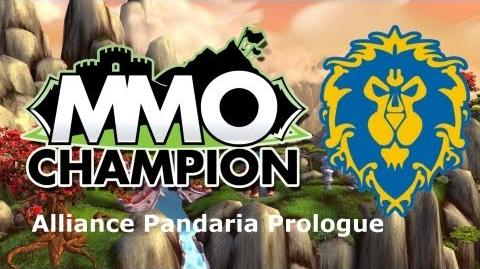 Shen-zin Su's Thorn
Battle of Serpent's Heart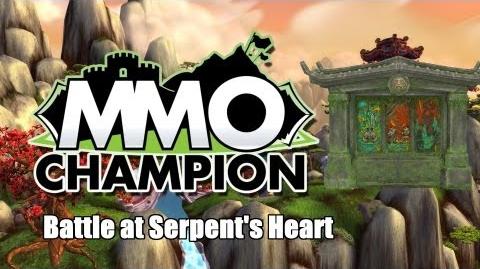 The Swarm Begins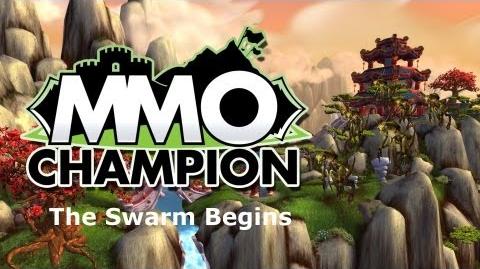 System requirements
Blizzard has confirmed that

Mists of Pandaria will not support Windows 2000 or earlier.[28]
Full system requirements were updated July 26th, 2012:[29][30]
Minimum System Requirements
 
PC
Mac®
Operating System
Windows® XP/Vista/7 with latest service pack
Mac OS® X 10.7.3
Processor
Intel® Pentium® D or AMD Athlon™ 64 X2
Intel Core™ 2 Duo
Video
NVIDIA® GeForce® 6800 or
ATI™ Radeon™ X1600 Pro (256 MB)
NVIDIA GeForce 8600M GT or
ATI Radeon HD 2600
Memory
2 GB RAM (1 GB Windows XP)
Storage
25 GB available hard drive space
Internet
Broadband internet connection
Media
DVD-ROM drive required to install from disc
Input
Keyboard and mouse required. Other input devices are not supported.
Resolution
1024 x 768 minimum display resolution
*Note: Due to potential programming changes, the Minimum System Requirements for this game may change over time.
Recommended System Requirements
 
PC
Mac®
Operating System
Windows 7 64-bit with latest service pack
Mac OS X 10.7.x (latest version)
Processor
Intel Core 2 Duo 2.2 GHz,
AMD Athlon 64 X2 2.6GHz or better
Intel Core i3 or better
Video
NVIDIA GeForce 8800 GT,
ATI Radeon HD 4830 (512 MB) or better
ATI Radeon HD 5670 or better
Memory
4 GB RAM
Input
Multi-button mouse with scroll wheel
Requirements changes
Mac OSX 10.5 will no longer be supported as of the systems pre-patch (patch before the expansion releases).[31]
Mac OSX 10.6 support may be dropped also since the minimum requirement is 10.7.3, but it has not been officially announced.
Overview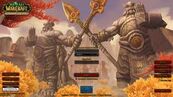 New Mists of Pandaria (Beta) login screen.
Level cap increased to 90.
Profession cap increased to 600.
Eleventh character slot added to accommodate new class.
 

Garrosh Hellscream

is planned to be the final encounter, as he grows more power-hungry. This will culminate in the Siege of Orgrimmar, where both factions lay siege to the city in an effort to topple Garrosh from power.[32]
New zones and types of zones
The Continent of Pandaria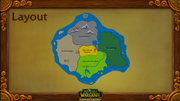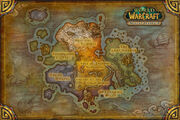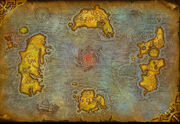 Players will discover a new continent of Pandaria with a rich new source of creatures, environments, and lore.[3]
A mobile starting zone for the new player race.
7 new level-up zones (most will be as large as Twilight Highlands or larger).[35] 
Single, unified continent.
Asian landscape influenced look.
No flying until max level.
Magically hidden since The Sundering.

Cataclysm cleared the mist.
Discovered by refugees from Alliance vs. Horde naval battle nearby.
Two factions plan to exploit the continent.

No sanctuary city: separate player hubs for Alliance and Horde. These hubs will have portals to all home cities, similar to Dalaran in Wrath of the Lich King.[36]
Will include world bosses that drop mounts. 
Cross-realm zones
Main article: Cross-realm zones
Some zones, depending on population, will allow players to interact across realms.[38]

The specific determination for when a zone will become cross-realm has yet to be revealed, but well known high population zones (quest hub cities and nearby zones) will not be cross-realm.
Pandaren
The expansion will introduce a new playable Pandaren race that will be available to both factions.[3]
The Wandering Isle starting zone is actually a giant turtle!
Pandaren characters will start out Neutral and choose either Alliance or Horde at level 12.

Alliance Pandaren are led by Aysa Cloudsinger, a leader that believes the ends never justify the means.[39] Aysa promotes the life philosophy of Tushui through meditation, rigorous training, and moral conviction.[40] 
Horde Pandaren are led by Ji Firepaw, a staunch defender of home and hearth.[39] Ji, who is outgoing, passionate, and not one for deep thought, leads in the moment by following the more direct Huojin philosophy, believing inaction is the greatest injustice.[40] 

Pandaren will be able to be the following classes: Monk, Mage, Priest, Hunter, Rogue, Warrior, and Shaman.
Pandaren have 5 racial abilities which include the ability to knock out opponents for a few seconds, and less damage from falling.[41]
Monks
Monks will be a selectable class for playable races up through Mists of Pandaria, except the races introduced with Cataclysm. The Worgen and Goblins will not have access to this class.
Monks will use Cloth and Leather items.
Monks can use the following weapons: Hands and feet, Fist Weapons, One-Handed Axes, One-Handed Maces, One-Handed Swords, Polearms, and Staves.
Initially it was announced that monks would not have an auto-attack, but that was changed and they now do.[42] 
Brewmasters and Windwalkers will use energy, which in turn will fill their chi. So far it looks as if chi will have three "spheres" to fill, and abilities will cost anywhere from one to three.
Races

New info from March 2012

Press Event!
New character creation screen
As of the beta Patch 5.0.1 build 15544[citation needed], a new character creation screen was announced and feedback requested.[46] Here are some of the new features:
New gear preview during the first step of the character creation process.

We now display your character in a high-level armor set specific to the class you've selected. Your character will appear in its normal starting gear only after you've confirmed your race, class, and gender and moved to step two (appearance customization).

Class and race information and choice moved from the selection menus to a new "More Info" button located on the bottom-left of the screen.
Thumbnails for each character customization option.
Stat changes
Talent revamp
See Talent calculator for links to latest expansion calculators.
This expansion will make dramatic changes to how the talent system works that Blizzard is calling "Talents 2.0".[3]
No talent points or ranks.
One talent tree per class.
Earn talents every 15 levels, but spec abilities may be available every 10 levels or so.
Every talent addition you can choose 1 of 3 and you can't change it without a fresh re-spec.
No mandatory talents.

*

Change talents as easily as glyphs.
Talents that appear to have the same name as existing abilities may have dramatically changed in effect.
Talent revamp based on categorization evaluation of current talents:[49]
Mandatory - Talents that were previously considered nearly mandatory will be automatically added.
Very cool, but not mandatory - The heart of the new talent system are talents that are cool options, but won't penalize you if you don't pick them.
Sort of cool - Most of these type talents will be made glyphs.
Boring - Baking into base spells instead of as modifiers.
Useless - These will be cut unless they are requested by players after trying out new system.
Black Market Auction House
Main article: Black Market Auction House
Scenarios
Main article: Scenario
Re-use old content in new ways.[3]
Short instances for a few players (less than 5).
Staged experience - somewhat like linked shared quests.
"PvE Battlegrounds" - Battleground like encounters, but vs. environment mobs/NPCs instead of other players.
No player collision.
Could replace group quests.
Scenario Finder: Queue and go, like Dungeon Finder.
No role requirements with the intent of short queues.
One of the many options to earn Valor points.
May only be available under a specific combination of conditions, like from a specific NPC in a particular area at night when raining.[52] 
Challenge Mode dungeons
Main article: Challenge Mode

Main points:[3]
Intended for max-level dungeons (9 Pandaria dungeons).[36]
Will be available through the Dungeon Finder as well
Complete a dungeon in X minutes.
Gear levels are normalized - gear would scale to a standard level (item level flattening?).
PvE competition
Guild challenges tracking.
Will earn Bronze, Silver, and Gold medals

**

 

Completing the Bronze level rewards an achievement and title.
Completing the Silver level rewards sweet looking gear with no stats. Looking at vanity gear, and gear intended for use in the Transmogrification system. These are all class-specific and have effects that proc off different class abilities.
Completing the Gold level rewards a unique mount, the Kwai-Lan, that is a flying mount that looks like a "Chinese dog statue with a Mogu like head"

Plus Valor points!
Bragging rights &

Leaderboards

Possible stacking debuff for future runs upon successful completion
New and updated dungeons
New for expansion and updates of classics:[3][54]
Pandarian dungeons 
Classic Heroics updates
Heroic (level 90) updates of classic favorites, though the lower level versions will still be available:
New raids
New raids:[3]
3 new raids

Mogu'shan Vaults - six bosses, primarily feature the Mogu and ending with  

Will of the Emperor

;[63] located in the Vale of Eternal Blossoms. Described as fighting the "ghost side" of the Mogu. 
Heart of Fear[64] - fighting against the Mantid empress within a huge cypress tree. 
Terrace of Endless Spring - Mysterious source said it is actually called "Terrace of Eternity", but that was effectively shot down when the Veiled Stair map was revealed.[65] Sha raid with final boss being the  

Sha of Anger

.[66]

Raid Finder for all raids plus Normal mode and Heroic mode difficulties. Also introducing a "per-player" loot system exclusively for the Raid Finder. A player will no longer be rolling against others; if they roll and it counts as a win, then they get something for their class, so long as it is on the boss's loot table. 
World raid bosses return![citation needed]
Raid releases will be staggered starting 1 week after the release of the expansion:[67][68]

September 25: Mists of Pandaria launches.
October 2: Mogu'shan Vaults (normal) opens.
October 7: Mogu'shan Vaults (LFR) opens, those who cleared normal Vaults can access heroic mode
October 30: Heart of Fear and Terrace of Endless Spring (normal) open, with Terrace only accessible by clearing Heart.
November 6: Heart of Fear and Terrace of Endless Spring (LFR) open; queuing for Terrace requires clearing Heart. Those who cleared normal Heart can access heroic Heart, same for Terrace.
Quests
Quest generalities:[3]
Increased focus on max level content.

***

Multiple hubs.
Incentives for dungeon runners and raiders (like special buffs or Valor points).

More quest choices to feel less linear.
No flying until max level to control questing experience better.
Faction improvements by giving more ways to earn items with less grind.
Daily quest cap removed at level 90.[69]
New quest reward system:[70]
Zone vendor gear - just under zone item level, but will help fill out off-specs, hopefully.
Dynamic quest rewards - rewards will be targeted directly to classes and specs.[71]
Alternate quest line rewards - less linear quest lines will allow getting different gear for similar slots from different quest lines.
Factions

New info from March 2012

Press Event!
Videos

From Nialinius
How to find PvE Vendors
PvP
Battlegrounds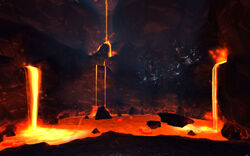 New battlegrounds, some with new styles of play:[3]
Ability to "blacklist" some battlegrounds from adding you to their queue.[88] Players can down-vote up to two battlegrounds from appearing on their list; this does not apply to those featured in Call to Arms. It is planned that there will always be a Call to Arms battleground available.[51]
New PvP vendors.
Arenas
New arena:
Be able to see opponents' class and spec before the fight starts.[51]
General PvP
A new item is being added to the game that will allow players to dismount other players who are astride their flying mounts, assuming they are flagged and within a minimum distance.[51]
Videos

From Nialinius
How to find PvP Vendors
Pet Battle System
Main article: Pet battle system
This feature became testable in Beta as of build 15851.
While this feature will not be released until the

Mists of Pandaria expansion is released, the expansion will not be required use the pet battle system and will be available to all players.[90]
New mechanics and expanded play for companions:[3]
Collect, level and battle with companion pets!
Accessible to all players.
Works with almost every pet.
Customize your pets (naming, looks, and abilities).
Wild pets! - to fight with your existing pets to acquire them.

They will have random stats and abilities.
May only be available during certain times under certain conditions.

Most non-wild pets will become tradable.[91]
Account wide pets.
Name pets.[52] 
Leveling pets
Win battles to earn experience.
Learn new abilities (up to 6 with 3 active for a battle).[52] 
Create builds using abilities.
Increase stats.
Level multiple pets to build a team of up to 3 pets.
Pets are leveled individually and you unlock pet slots by earning achievements in pet battles.[52] 
Battling pets
PvE & PvP battles.
Turn based combat.
Simple combat system.
Fight with a team of 3 pets.
Queuing system.
Players will not know the names of players they are fighting; this is to avoid trash-talking.[52] 
Only wins will be recorded.[92] 
Different combat types.[93]
Customizing pets
Name your pets
Items for pets
Builds & teams
Masters & Master abilities
Mounts
Main article: Mists of Pandaria mounts
Videos

From WazopVids
| Part I. | Part II. |
| --- | --- |
| | |
Professions
Main article: Mists of Pandaria profession changes
Achievements
Upcoming changes:[3]
Class changes
Class changes and overall character structure changes:[3]
All classes

Spellbooks cleaned up.
Rotations improved.
Automatically learn spells (no need to see trainer).
Several new spells.
Specs more developed and attempt to make talents more fun.
Resilience - Created a barrier to entry for PvE players to get into competitive battlegrounds.

Will work more like a base stat and be gained every level.

Ranged weapons

Hunter minimum range - Gone!
Hunter melee weapons - Gone!!
Ranged slot for all other classes - Gone!
Relics - Gone!
Rogue and warrior can throw melee weapons (thrown weapons - Gone?).
Wands become main hand weapons.

Druids

Now with 4 specs!

Feral - cat (melee DPS)
Guardian - bear (tanking)

Some overlap
All druids can still use bear and cat forms.

[Symbiosis]

[101] - Creates a symbiotic link which grants the Druid one ability belonging to the target's class, varying by the Druid's specialization. In exchange, grants the target one Druid ability based on their class and combat role.
New Stag travel form model by default (Cheetah model available with glyph) and glyph ability to carry a player passenger.[102]

Hunters

Rare hunter pets now trackable only by hunters, so non-hunters can't kill them intentionally or by accident.[103]

Shamans

Buff totems - Gone!
All totems are about utility.
New totem examples:

Earthgrab Totem - roots.
Repulsion Totem - repels.
Bulwark Totem - absorbs.

Warlocks

Unique resource for every spec
Minion changes[42]

Imp → Fel Imp -

[Singe Magic]

is now an AoE magic debuff removable for your group.
Voidwalker → Voidlord - looks like a real tank now, with a disarm and a personal shield that keeps himself healthy.
Felhunter → Observer - a floating eyeball-squid demon, but maintains the Felhunter's spells.
Succubus → Shivarra - with all the same spells.
Felguard → Wrathguard - looks to be available to all specs of warlock.
Guilds
Interface

New info from March 2012

Press Event!
The character creation interface appears to be undergoing changes. While an eleventh slot has been added to accommodate the monk class, other improvements are in the works.[105]

Modified to lay out appearance options, rather than having to click through to find the one you want.
Possible class video on the class selection screen.
Now multiple selection screens, including race, class, and appearance.

Miscellaneous
Media
Audio
Images
Video
References
See also
External links
Official
US:
EU:
Screenshot of the day
Press materials
US
EU
March 2012 press event
Interviews
News
Guides
Lore
Previews
Analysis
Suggestions
Videos
Old