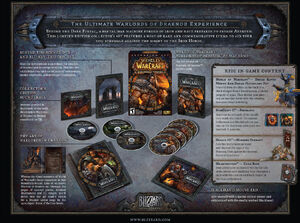 The World of Warcraft: Warlords of Draenor Collector's Edition is a special box similar to previous collector's edition boxes of World of Warcraft. It will be available at select retail locations.
The following will be included:[1]
World of Warcraft: Warlords of Draenor — Get the full version of Warlords of Draenor on DVD-ROM.
Behind-the-Scenes DVD and Blu-ray Two-Disc Set — Meet the development team behind the creation of Draenor and its savage warlords. This two-disc set includes over an hour of creators' commentary, insider interviews, and developer roundtables.
Collector's Edition Soundtrack — Immerse yourself in the sounds of war with the complete Warlords of Draenor orchestral soundtrack on CD.
The Art of Warlords of Draenor — Witness the visual evolution of the expansion in this beautifully bound tome of exclusive Warlord of Draenor art. Through 160 pages of concept pieces, finished illustrations, and CG images, you'll delve into the art team's vision for a Draenor under siege by the apocalyptic threat of the Iron Horde.
Blackhand Mouse Pad — Arm yourself with a special-edition mouse pad emblazoned with the deadly warlord Blackhand.
Epic In-Game Content[2]
World of Warcraft  

[

Dread Raven Mount

]

and  

[

Dread Hatchling

]

Pet — Descend from the skies on the back of a black-winged Dread Raven mount, a mortal progeny of Anzu. Then devour your prey in your next pet battle with the adorably ferocious Dread Hatchling.
Pricing:
US: $89.99 USD
EU: €79.99 /£64.99
AU: $99.95 AUD
References
See also
External links

WoW Official Game Site (US)
Collector's Edition

WoW Official Game Site (EU)
Collector's Edition
Warcraft games
 

RTS

MMO

Special Editions

Misc.

Online card

MOBA

Demos

Remakes

Cancelled

Non-computer

Games with strikethrough were cancelled or are no longer being produced.