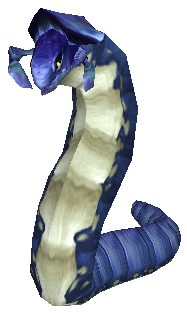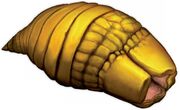 Worms are invertebrate creatures. One type is a slithering, segmented beast with what sometimes appears to be a tiny pair of limbs near its face. Almost all worms are found inside cave-themed instances such as Maraudon or Ragefire Chasm, but a few types of tiny worms live inside zombies. Strangely, some species of worms are skinnable, while others are not. Worm pets and items (fishing) also exist.
Rock borers and jormungar were the first two worm types to become tamable by hunters. With the introduction of

Mists of Pandaria, caterpillars also became available. The carrion grub, especially common in the Eastern Plaguelands, is not tamable.
Hunter pet
Specialization (upon taming)
Tenacity
The Worm eats



The Worm comes with

All pets come with


Worms are considered exotic beasts and can only be tamed by beastmaster hunters with the

[Exotic Beasts]

ability.
Though hunters can respec their pet worms into Cunning or Ferocity, they are inherently Tenacity. In addition to the abilities that come standard with all pets ([Growl] and [Avoidance]) and those given to their natural or retrained specialization, all worms are given the following:
Subspecies
Carrion grub

Dredge worm

Jormungar
Rock borer
The subspecies below can be tamed by beastmaster hunters.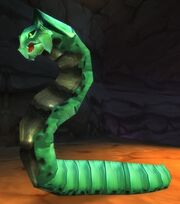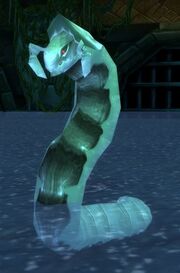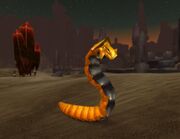 Blue
Brown
Green
Grey
Pink
White
Yellow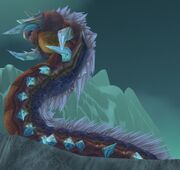 Black
Blue
Ghost
Green
Purple
White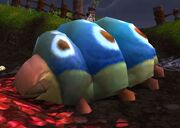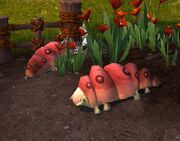 Blue
Green
Purple
Red
Yellow
Named
Mobs with levels can be tamed by hunters.
   [90 Rare Elite]  

Bombyx

   [56 Rare]  

Grubthor

   [38 Rare]  

Oozeworm

   [74 Elite]  

Rattlebore
Vanity/Battle pet
See also
Patch changes
/

Patch 4.0.1

(12-Oct-2010): New special ability added, Burrow Attack.


Patch 3.1.0

(14-Apr-2009): Bonuses equalized. Damage had no bonus and now has +5% bonus. Health had a 10% bonus and now has a +5% bonus.

/

Patch 3.0.2

(14-Oct-2008): Become tamable.

External links

Petopia