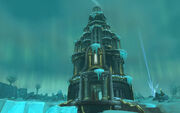 The Wyrmrest Accord is an alliance of the remaining four dragonflights — the red, bronze, green, and even black flights — against the blue dragonflight's crusade. The red dragonflight is the most active of the four, with a large number of red dragons guarding Wyrmrest Temple itself. The blue dragonflight is also somewhat represented by the bipedal dragonkin guarding the ground level of the temple, though only one actual dragon of the blue flight — the ambassador, Kalecgos — remains allied with the Accord. However, the recent defeat of Malygos might lead to the reacceptance of the blue flight into the Accord, while the Black Dragon Flight appears to be ready to turn on the others in preparation for their leader's return.
Notable members
Former members
Quest givers
Reputation
Reputation with Wyrmrest Accord can be earned by completing the following daily quests, through Championing via the Tabard, or by trading 1

 [Emblems of Triumph] for 1 [Wyrmrest Commendation Badge] at the Emblem of Triumph Quartermaster in Dalaran.
Rewards
The Wyrmrest Accord quartermaster, Cielstrasza, resides at the top of Wyrmrest Temple.
Quests
Several quests provide reputation with the Wyrmrest Accord.
See also
External links
Faction
Lore

WoW Insider
Know Your Lore: The Wyrmrest Accord and the order of the world
by Anne Stickney Jul 31st 2011 at 8:00PM
Reputation
factions

Burning Crusade

Wrath of the Lich King

Cataclysm

Mists of Pandaria

Warlords of Draenor

Legion

Battle for Azeroth