X-51 Nether-Rocket X-TREME

Item Level

70

Mount"Mount" is not in the list (Cloth armor, Leather armor, Mail armor, Plate armor, Axe, Dagger, Fishing pole, Fist weapon, Mace, Miscellaneous, ...) of allowed values for the "Item type" property.
Requires level 20
Requires Riding (75)
Use: Teaches you how to summon this mount.
Vendor 200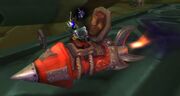 The X-51 Nether-Rocket X-TREME is a piece of loot available from the trading card game set Servants of the Betrayer redeemable from

 Landro Longshot in Booty Bay.
Notes
Both Horde and Alliance can ride the mount.
The non epic mount (100g) is colored blue, and the epic mount (200g) is colored red. Both require level 70 and applicable riding skill to use in the air.
You can choose to buy the standard version first and then return to Landro with the same code to buy the epic version.
Patch changes

Patch 2.4.0 (25-Mar-2008): Added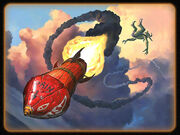 External links

WarcraftLootCards.com
Mount Video, Pricing/Droprate Info