This feature was removed from
Heroes of the Storm
.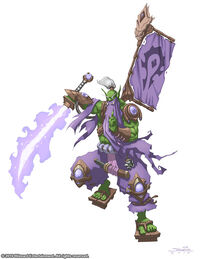 Za'Muro is an orc blademaster who appeared in early builds of Heroes of the Storm. Although he was based in concept from the Warcraft Universe,[citation needed] he does not appear in any Warcraft games.
Background
Za'Muro was the greatest of the Blademasters. He could not be defeated in battle and so he began a quest to find his equal. He has wandered across the metaverse for untold centuries, searching for the ultimate adversary.[1]
Development
In early builds, Za'Muro benefited from strength items. The more foes he faced, the stronger he became.[1]
As with all heroes in the game, Za'Muro has a "good" and "evil" appearance. In his case, the most notable difference is that he appeared as a standard greenskinned orc in his "good" form and as a fel orc in his "evil" one.[2]
His stats and abilities were as follows: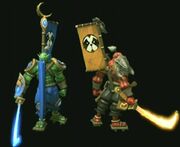 Stats

Life: 4
Attack: 2
Abilities: 3
Speed: 4+

Abilities

Asura's Call
Chakra Waves
Cosmic Blossom
Counter Attack
Lotus Strike
Ultimate: Bladestorm[1]
Notes
May have been an homage to the Frozen Throne character Samuro.
References
Sources

Note: This is a generic section stub. You can

help expand it

by clicking

 Edit to the right of the section title.
External links

Za'Muro