Were you looking for the old 10-main raid instance version, see Zul'Aman (original) or lore about the troll city, see Zul'Aman (lore)?
The Amani troll city of Zul'Aman was re-introduced in Patch 4.1 as 5-man heroic instance.
Though the Ghostlands region is technically a Horde territory (blood elf, to be more specific), the area around Zul'Aman is considered contested.
Bosses
Full boss strategies do not belong in this section or its subsections. Only key abilities or adds should be listed.
Gallery
Videos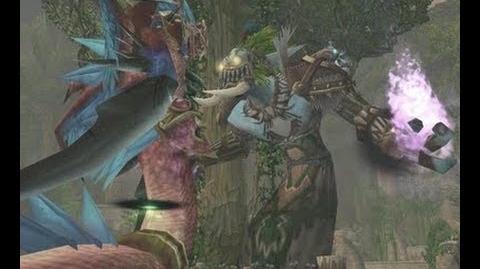 See also
External links
Info

WoW Insider
Does the Rise of the Zandalari dungeon tier serve a purpose?
by Matthew Rossi Aug 22nd 2011 at 1:00PM
Guides
Icy Veins
Zul'Aman Guide (Cataclysm, patch 4.1)

Wowhead News
In-depth Boss Strategies for Zul'Aman and Zul'Gurub
by Ashelia 4/27/2011 9:18 AM

WoW Insider
Patch 4.1: Guide to the new Zul'Aman
by Allison Robert Apr 26th 2011 at 7:00PM
Old forum discussion

Official General Discussion forum (US)
Stop complaining about ZA and ZG
#6 Zarhym 3/1/11 9:34 PM

Official General Discussion forum (US)
How much do you want to bet that ZG and ZA
#8 by Zarhym 3/12/11 3:13 AM
Community content is available under
CC-BY-SA
unless otherwise noted.